Moving to college has never been easier
Especially if you're moving on a budget. If your student move involves a dorm, apartment complex, or off-campus housing, U-Pack Moving is the ideal solution! You load and unload – we do the driving. And when you're moving long distance, U-Pack prices compare to truck rental (but you don't have to drive). Now that's the way moving should be.
Call or click today for a free moving quote. Go U-Pack! We drive. You save.®
Here's How a U-Pack College Move Works: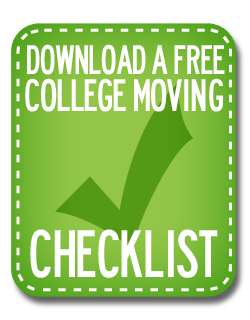 We'll deliver a ReloCube or moving trailer right to your door.
You load.
We'll drive to your new location and deliver right to your designated parking area (ReloCubes fit easily into a standard-sized parking space).
You unload.
And calculating your price is easy; it's based on the number of ReloCubes you use, or the linear footage your shipment occupies in the moving trailer.* Most students find that one ReloCube works perfectly for moving to or from college. Here's an added perk: there's no deposit or down payment. Simply pay by credit card in transit, or cashier's check or money order upon delivery.** No surprises. No hidden fees.
Ways to save even more on a college move
When you're a college student, graduate student, or simply moving away for your first job, saving money is more important than ever. U-Pack offers clear-cut solutions to help reduce your moving cost:
Select a U-Pack Terminal to Terminal move.

Load and unload your items at one of nearly 300 ABF Service Centers located throughout the United States. It's an excellent money-saving solution when you don't have much to move.

Move on an off-peak day.

Similar to hotels and airlines, there are less expensive days and seasons to move. Ask your U-Pack Moving Consultant about the best day for your specific move.

Move less.

Since your U-Pack price is based on the linear footage your shipment occupies in the moving trailer, or the number of ReloCubes you need, when you move less, you pay less. Though college moves are typically smaller than average household goods moves, there still may be room for improvement.
If you're moving on- or off-campus, make sure to contact your school's Residence Life office to get a move-in/move-out schedule, then reserve your U-Pack move early!
Have more questions about U-Pack's student moving services? Call today and a friendly U-Pack Moving consultant will gladly help.
*The minimum charge for a U-Pack trailer move is five (5) linear feet.
**Some destination locations and shipments with storage may require payment in transit by credit card. You will be advised if this is the case for your area.