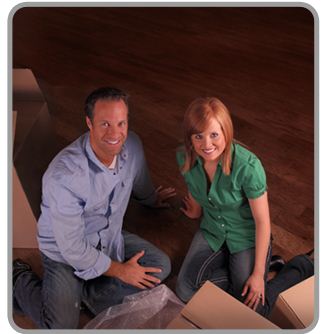 Save Money on Your Small Move
U-Pack was designed with the small move in mind. Pack your belongings into an easy-to-load ReloCube®, or pay only for the space you use in a 28-foot moving trailer;* either way, you're sure to save!
Call or click today for a free moving quote and see how U-Pack can help you move long distance and stay within your moving budget – 800-355-1696!
Moving with U-Pack on a tight moving budget
When we talk about "small moves," we're typically referring to moving the contents of a studio or one-bedroom apartment – the perfect size to fit into 1-2 ReloCubes or 5-7 linear feet of the moving trailer. Regardless of the size, moving shouldn't break the bank. U-Pack offers discounted moving options to help you cut costs and stay within your moving budget. Here are some great ways to save on your small move:
Select the "Terminal to Terminal" option. This is especially beneficial when you don't have much to move. Just bring your belongings to the nearest ABF Service Center, load them into an ABF moving trailer or ReloCube, and unload them at the service center closest to your destination location (you can take multiple trips to the terminal for loading and unloading if necessary). If you're looking for discount moving options, speak to a U-Pack sales consultant to see how much you can save by eliminating pick-up and delivery costs.
Choose the "Terminal to Door" or "Door to Terminal" option. Loading or unloading at the local service center is a sure way to save money. If you find that one end of your move is escalating your overall costs, or if you're just looking for ways to lower your price, a hybrid move is a great solution.
Select an off-peak moving day. Moving on days that are considered "less busy" is a definite money-saver. Some days like Fridays, weekends, holidays and the end of the month, are busier and more expensive than others. Check out the moving calendar tool, or speak with a U-Pack sales consultant to determine the lowest cost day for your move.
Move only what you need. With U-Pack, you pay only for the space you use; so moving less costs less. Before moving day, consider a garage sale or charity donations and reduce the items you'll need to move.
Pack and load efficiently. Not only does packing and loading high and tight save money, it also works to protect your items in transit. Request a free DVD from U-Pack for packing and loading tips designed help you pack and load as efficiently as possible.
As you can see, U-Pack definitely makes moving on a budget an attainable goal. Call or click today for a free moving quote and make sure to ask about any available moving discounts!
*Trailer space is limited to a 5-ft. minimum.
Get a free moving quote
online or call U-Pack at
800-355-1696
Monday through Friday from
7 a.m. - 8 p.m. CST
.
Need boxes?
We have plenty of moving supplies, including a broad selection of boxes that we'll deliver right to your door.
Send a Moving e-Card
to your friends and family to let them know where you are moving to or to invite them over for a moving party!