When you choose to move or store in a ReloCube, U-Pack delivers an easy-to-load portable moving and storage container right to your door. Reserve one, or as many as you think you'll need, and pay only for the Cubes you actually use. Simply load it, lock it, and keep the key; we'll move it, or store it until you're ready for delivery.
Now that's convenience – and just one of the reasons so many customers choose U-Pack over other the competitors. Get a free moving quote today and see how U-Pack's ReloCube makes moving easy and affordable.
Here's what you can expect from a U-Pack ReloCube:
ReloCube Size & Specifics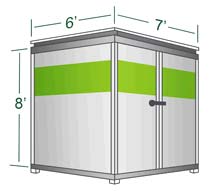 ReloCubes are custom-built, weatherproof metal moving containers.
They sit flat on the ground for convenient loading and unloading.
The exterior dimensions are approximately 6'3" x 7' x 8'4" (DWH)
The interior dimensions are approximately 70" x 82" x 93" (DWH).
Thanks to the convenient size, ReloCubes fit easily into a standard-size parking space.
Each Cube can hold a maximum of 2,500 pounds. That typically translates into the contents of a studio-size apartment.
Securing your belongings inside the Cube is easy; they come equipped with logistics tracking throughout the interior.
Place your own padlock on the ReloCube for added security. It stays on until you remove it at the destination.
ReloCube Delivery
U-Pack has three different types of moving equipment used to deliver ReloCubes. Below is a description of each equipment type:
Flatbed Trailer: This is the most common type of ReloCube delivery equipment; they can be found at the larger ABF terminals and the Northern terminals where winter and wet weather conditions are a concern. They typically have the ability to deliver up to four ReloCubes in one trip. Since this type of trailer is a little longer than most, it requires plenty of room for both turning and parking.
At your residence, the ReloCubes will be removed from the flatbed and positioned in front of your residence with an all-terrain forklift. Although the forklifts are all-terrain, they must be placed on a hard, level surface. Once positioned, the ReloCube is ready for you to begin loading or unloading right away.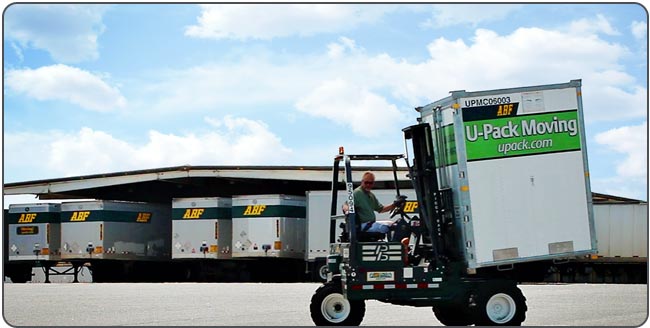 Drop-Deck Trailer: This type of equipment is typically found in mid- to small-range markets. The short length of the trailer allows for easy access to most locations. However, it does require a level, hard surface for parking and using the forklift. Moves that require three or more ReloCubes will involve multiple trips by the driver to deliver all of the Cubes.
Liftgate Van: The liftgate van resembles a standard tractor/trailer that you would see on the interstate. These vans are capable of hauling up to five ReloCubes and are loaded and unloaded from the rear. You'll typically find them in larger markets across the country. They require plenty of room for both turning and parking and can only be operated on level, hard surfaces.
To learn more about the benefits of moving in a ReloCube, using ReloCubes for storage, ReloCube parking, or U-Pack's trailer move options, visit these pages, or call to speak with a helpful U-Pack moving consultant – 800-355-1696.
For more detailed information about the ReloCube, check out these posts on U-Pack's Moving Blog: